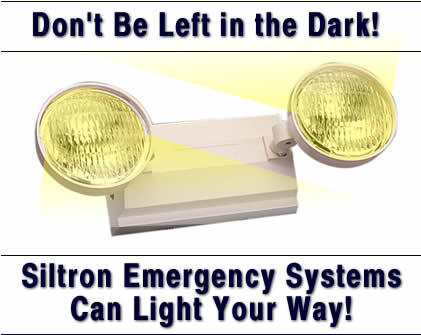 In today's environment, emergency lighting equipment can no longer be taken for granted. Safety is a key issue. Founded in 1967, Siltron Emergency Systems is a name that can be trusted to provide a complete and dependable line of emergency lighting, exit signs, and inverter systems. Siltron has earned a reputation for reliability, quality, and innovative design. A broad range of products covers installation needs ranging from routine commercial to upscale architectural to hazardous industrial locations.
When the power fails, Siltron will light the way!
Safety is not the only consideration when choosing emergency lighting. Siltron offers a complete line of Energy Star rated LED signs. LED exit signs can save over 90% in energy compared to incandescent signs. Energy efficient products conserve our natural resources, prevent pollution, and save money. This all adds up to a great return on the investment.
Siltron Emergency Systems – The power to protect!